I took the advice of DMoran and tried out the 105gn Berger Hunting VLD with RL-22, I am sure glad that I did. Thanks DMoran for sharing your Data! The Data I refer to is Here:
http://practicalrifler.6.forumer.com/viewtopic.php?t=1191
Info:
Rifle: Weatherby Vanguard Sub Moa.
Caliber: 243 Win
Barrel: 1:8, 25" Lothar Walther
Brass: Lapua on 3rd reload.
Primer: CCI 250 Large Rifle Magnum
Bullet: 105 gr Berger Hunting VLD
Powder: RL-22
Target dots: 1"
Let me know what you guys think?
I shot the first round robin with the usual load work up from 43.3gn to 44.8gn. The points of impact on all 6 groups are within ~0.5" and if you over lay the groups they are ~1 MOA over the 18 shots! So I decided to work with DMoran suggested 44.5gn of RL-22. This took some real faith because I could not find this high a load for RL-22 and the 105s. Then on the Alliant Reloaders guide they had listed 45.5gn as max with a 100gn bullet, so I decided to give it a try. I watched for pressure signs like a hawk. This target was shot with bullets seated at 0.010" off the lands(Jump).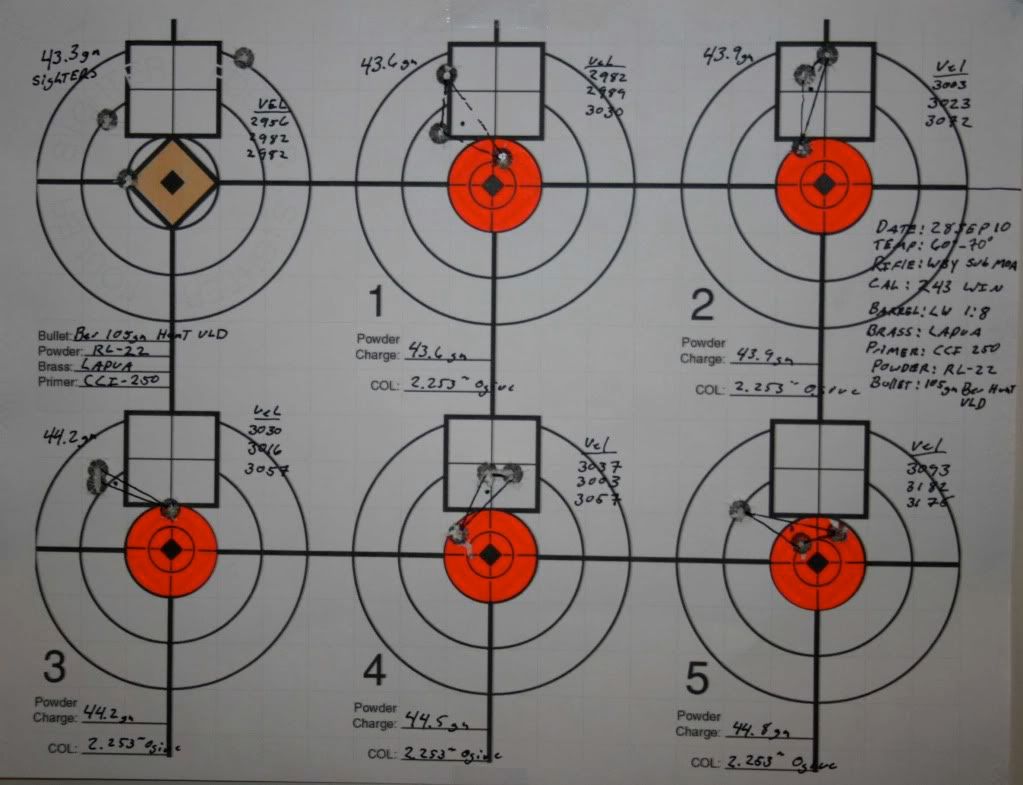 I then took the 44.5gn load and played with seating depth, I tried the 0.005" jam into lands and the rifle did not like that one bit like 2" groups bad. I then decided I would move in and out from 0.010" Jump in 0.003" intervals. I think I have found the sweet spot at 0.007" Jump to lands, 2.256" Ogive Length, 2.834" COAL, this is a 0.137" three shot group! These bullets are extremely finicky about seating depth as you can see.