I picked up a couple of these over the Christmas season... Ruger American bolt action rifles. One in .243 Winchester for my son's 12th birthday which falls on December 25th (Christmas baby).
... and it was of course his Christmas present as well... he got other stuff to go with the gun, including a nice Sightron S1 3 to 9 power scope with mildot reticle and some Burris Signature rings with offset inserts so we could get this gun to 1000 yards...
The other rifle which looks identical (of course) is a .308 win, and it ended up being my Christmas present.
Anyway...
The Ruger American is relatively new. And in my opinion, Ruger has knocked this one out of the park. I'm a tried and true Savage fan, I must admit... but this little Ruger gives *nothing* up to the Savage, or so it seems at this point.
I did a bit of research on the 'net to find out what folks thought of these rifles before I invested. I couldn't find anyone who had anything bad to say about them... everyone just went on and on about how accurate the Ruger American was. So I decided to go on and give it a try. I'm really glad I did.
While I've not pulled the action out of the stock, I'm told that the receiver/stock union is precision designed for a tight lock when the action screws are torqued down. The barrel is also free floating, which of course helps with accuracy a great deal. Ruger has gotten on the bandwagon with the Savage Accutrigger-esque bladed safety trigger, and this one is adjustable, presumably to around 2 pounds. The factory setting seems to break at around 3 pounds, or just a tad over that. We're not going to mess with that setting, as it breaks very crisp, with no notable over-travel--it simply works very well.
The Ruger American has a three lug bolt design, which accomplishes a couple of things. For one, it allows for a shorter arc of the bolt when cycling the action, and secondly, the three lug design makes for a better mating of the lug to receiver, negating to a large degree any real need for lapping this bolt. Savage gets around the need to lap the bolt with a "floating" bolt head, which squares itself in the receiver... but Ruger has chosen the three lug design, possibly in part as an accuracy enhancing feature...
We mounted the Sightron S1 3 to 9x mildot scope on the rifle and as mentioned gave it a 20 MOA lift at the rear with Burris Signature Zee rings (the rifle comes with Weaver style two piece scope bases, a nice amenity), and went out today to break the barrel in and of course get the scope lined up.
I had some "break in" fodder sitting around the reloading abyss... some Speer full metal jacket 90 grain bullets (these were given to me, I'd never think to actually buy something like this!) ... and some old Accurate Arms extruded powder, called "Magnum Rifle Powder" which purports to be much like 4831. It's been long since discontinued... the only load data around seemed to be the folded up slip of paper in the canister itself, which led me to conclude that 42 grains of the stuff behind the 90's in some Federal brass cases wouldn't blow the action... so that's what I loaded.
We did a "semi" break in... shoot once... clean... shoot twice... clean... shoot three times... clean... then we maybe shot half a dozen times and cleaned... I don't know if the break in was all that necessary, really, because this rifle just shot great right off the bat...
My son shot this group after the rifle was cleaned. It settled down after the two high shots from the cold clean (and somewhat wet with Hoppes number 9) bore... and put 4 shots into the dime sized cluster shown. And this was just an arbitrary "break in" load!
We also had some Federal "Power Shock" cheap stuff ammo... 100 grain spitzer type bullets... and these were the only three shots of that tested... I shot this MOA group right after the first half dozen or so break in shots...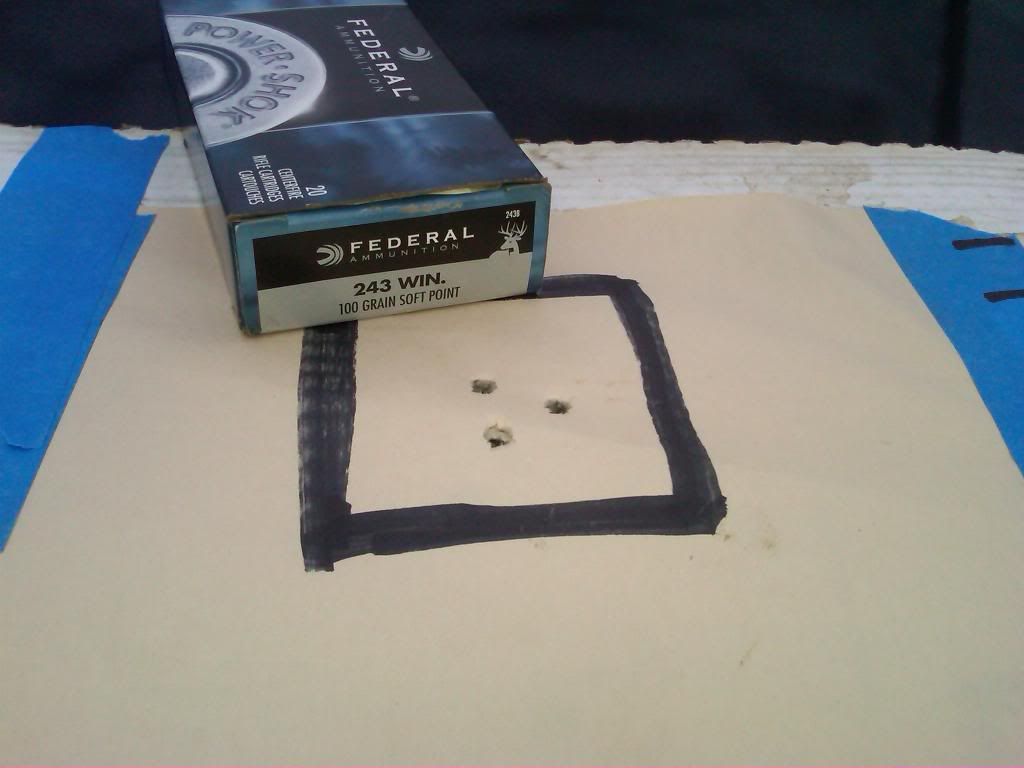 Another thing I had wondered was if the standard (for .243 win) 9 twist barrel (presumably what Ruger is using here) would stabilize the 105 grain Hornady AMAX bullet, as we do plan to shoot this rifle at ranges out to 1000 yards, or just beyond... and it actually did--this load is 48.5 grains of Retumbo with magnum primers...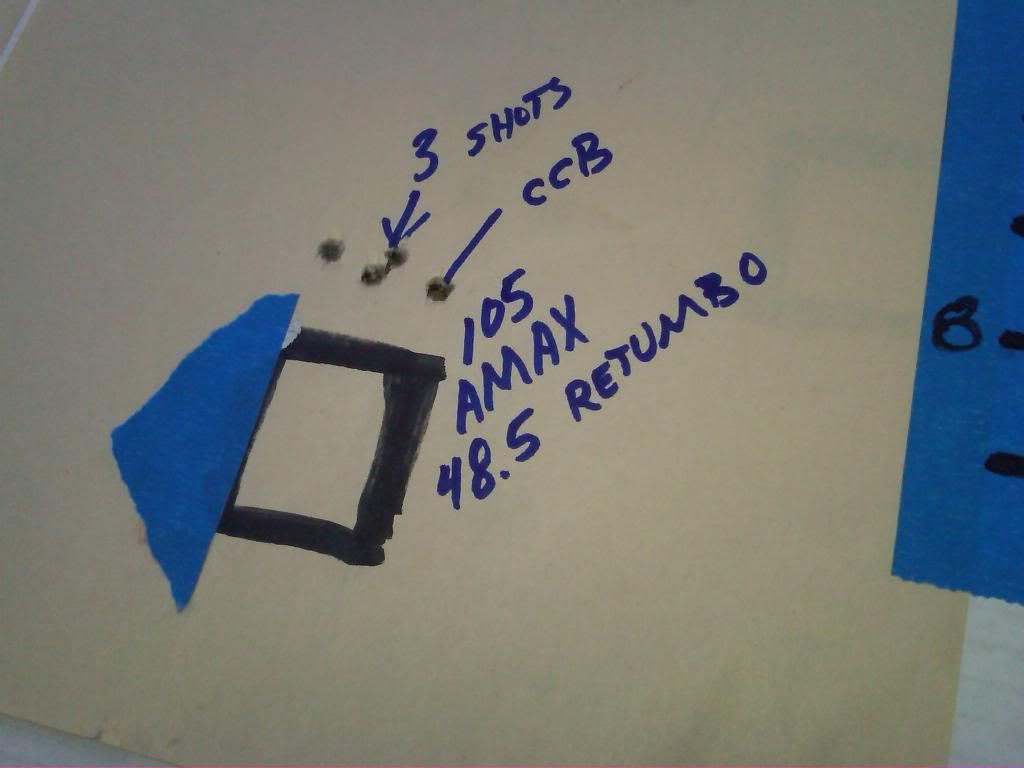 With a bit of OAL tweaking I'd say we can get the 105's shooting 1/2 MOA easily. Amazing... but sure seems like it'll work.
I did not expect this rifle to shoot anywhere close to this good. I figured it would be a consistent MOA to maybe 1.5 MOA rifle, and it would satisfy my 12 year old while he learns to handle a centerfire rifle... but to put it bluntly, I was blown away with the accuracy and handling of this Ruger.
The bolt runs smooth... it's got a very easily observed cocking indicator which slides out from the rear of the bolt when it's cocked (see the little silver tab in front of my son's thumb in photo below... you can even check the cocking status without looking, just by feeling for the indicator)...
...the safety is right there on the tang--a perfect place for a safety to be. It's got a rotary feed detachable polymer magazine, which seems to work very well (though I'll be ordering a couple extras so we'll have them in the event one gets lost)...
If I were asked to think of one bad thing to say... at this point, I honestly can't!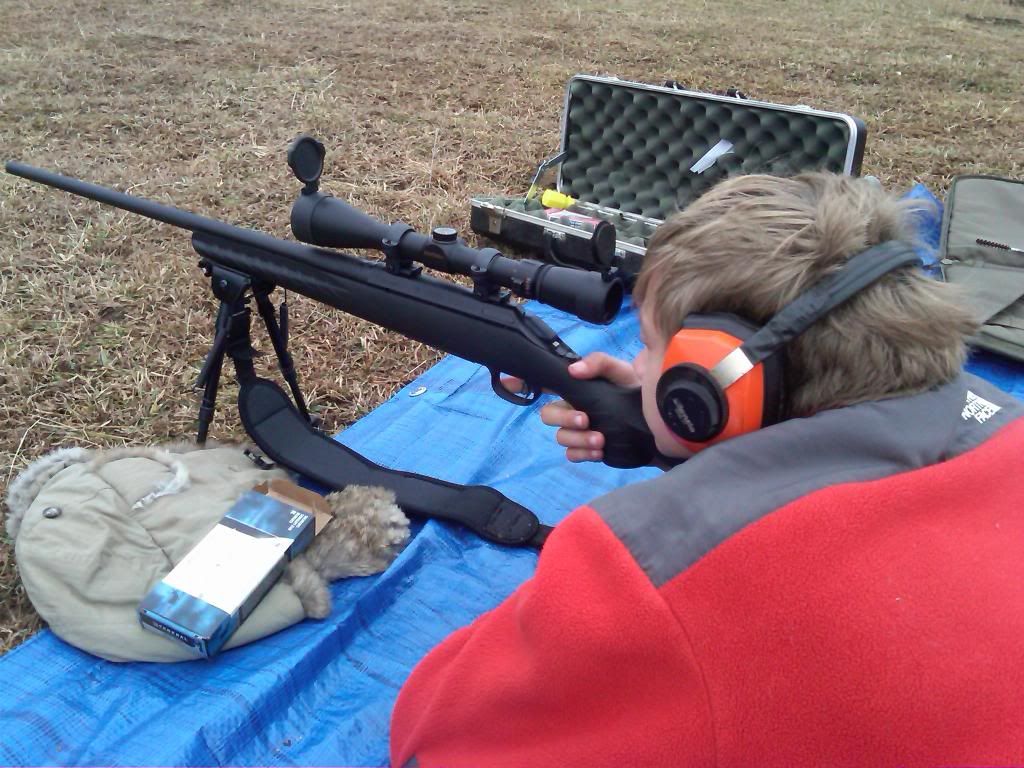 my son working the rifle... I'm pretty proud of how well he's shooting, having really not had a lot of training at this point (though he's been shooting air rifles for about 3 years now)...
And a couple more photos of the rifle...
I got this one and the .308 for mid 300's... one local gun store here has them for 329 dollars each... Walmart has them for around 350 dollars.
Several decades ago, Remington decided to come out with a budget priced rifle, to go after that niche in the market. They came up with the Remington 788... and it sold for less than 100 dollars when it hit the market. It didn't take long before folks were realizing that 788's were literally *embarrassing* 700 owners at the range, and even at rifle matches. Perhaps Ruger has, with the Ruger American, unwittingly meandered down that same road... because I'm here to tell you, if the other Ruger Americans shoot like this one does, Ruger's own higher dollar bolt guns are gonna have some 'splaining to do... ;)
Dan